Sustained Dialogue Collaborates to Launch Youth-Centered Initiative in Nairobi
In April of 2016, Sustained Dialogue Campus Network's Managing Director, Rhonda Fitzgerald, traveled to Nairobi to help launch a youth dialogue-to-action initiative entitled "Tubonge Mtaani" (translated as "Let's talk in the 'hood.') Sustained Dialogue is partnering with two organizations for this project: the Nairobi-based Eastleighwood Youth Forum and the Swedish-based Life and Peace Institute.
Sustained Dialogue has collaborated with the Life and Peace Institute and the Peace and Development Center (PDC) in Ethiopia since 2008 to implement Sustained Dialogue programs across the Horn of Africa, beginning at Addis Ababa University, then expanding to two other Ethiopian universities, Haramaya University and Jimma University. The partnership between these organizations continues to thrive, and the PDC Executive director Ayten Birhanie co-led both the Addis Ababa and the Nairobi trainings with Rhonda Fitzgerald.
In Nairobi, The Sustained Dialogue process brought together participants ages 18-35, who represented the ethnic diversity of the Kamukunji Constituency of Nairobi, in a 5-day moderator training. Moving beyond discussion and exchange, the participants will later learn to use scenario-building to determine proactive steps for collective community-based action. The project is expected to continue for nine months, and reach over 200 participants.
Eastleighwood Youth Forum Director Burhan Iman believes that the project will "create an opportunity and a common platform for the youth in identifying underlying issues affecting the community they live [in]—how to develop the right intervention to curb those factors, since they are change agents for their communities.
The
Eastleighwood Youth Forum
is a Nairobi-based youth-centered nonprofit founded to build capacity in communities "marred by prolonged political instability, terrorism, poverty, and discrimination/marginalization"
[2]
. To learn more about their work, click here:
http://www.eastleighwood.org/
The
Life and Peace Institute
is Swedish organization that carries out conflict transformation programs across the Horn of Africa. Click here to visit their website:
http://life-peace.org/
http://
eastleighwood.org
The story of Somalia's decline from stability to chaos and the
problems facing its people at home and abroad.
Somalia's modern history is a tale of independence, prosperity and democracy in the 1960s, military dictatorship in the 1970s and 1980s - followed by a desperate decline into civil war and chaos almost ever since.
The effect of the war has been to scatter the Somali people in their millions to refugee camps and neighbouring countries - and in their hundreds of thousands to the UK, Canada and the United States.
Somalia gained independence from Britain, France and Italy in 1960. It held free and fair elections and was ruled democratically from 1960 to 1969.
Once labelled the "Switzerland of Africa", Somalia enjoyed almost a decade of democracy. The first elected president of Somalia, uniting the former British and Italian territories, was Adam Abdullah Osman who reigned for seven years. He was succeeded, freely and peacefully, by Abdirashid Ali Sharmarke.
Sharmarke, however, was assassinated by one of his own bodyguards in 1969.
Prime Minister Mukhtar Mohamed Hussein took over, but his brief, six-day tenure was cut short by a military coup led by General Siad Barre, ending Somalia's period of democratic government.
Whatever its faults - and there were many - Barre's 22-year rule effectively created modern Somalia, building one of Africa's strongest armies and massively improving the literacy of the population.
Yet Barre, who gained the support of the US and the Soviet Union, the superpowers of the day, also dissolved parliament, suspended the constitution, banned political parties, arrested politicians and curbed press freedom.
"From then, there was a downward trend. In everything. A disintegration. And every time things were going down, the military regime was becoming more brutal and more dictatorial," says Jama Mohamed Ghalib, a former Somali government minister.
But when Barre launched the Ogaden war in 1977 to take the Somali majority region from Ethiopia, it provoked serious international opposition, including that of the Soviet Union which had once supported Barre but now sided with Ethiopia. The Somali army was forced to withdraw.
Opposition to the Barre government gradually increased and in May 1988, encouraged by Ethiopia, the same northern tribes - in what had once been British Somalia - rebelled against Barre's dictatorship. This provoked the full force of his military power and aggression and thousands of northern Somalis were killed.
Three years later, in 1991, both the northern and southern tribes, again supported by Ethiopia, rose up against Barre. His grip on power had weakened, his former allies had abandoned him and he was finally brought down. One outcome was the northern region proclaiming its independence and declaring itself as Somaliland. It maintains its separatism today, but has hardly any international recognition.
But the other long-lasting outcome was civil war, with myriad competing factions and frequent intervention by foreign powers and neighbouring countries. In 2006, the Islamic Courts Union split into several factions, one of which was Al Shabab. The radical group still controls large parts of the south of the country today.
"If Siad Barre was to leave power two years earlier and said, 'Now, Somalis, you have to organise new elections and I will be happy to leave' - none of this would have happened. But when he brutalised different groups of people in different regions of the country, people were just, literally, mindlessly trying to get rid of him," says Abdi Samatar, professor of geography at the University of Minnesota.
A flood of UN aid in the 1990s and 2000s led to the collapse of Somali agriculture and has reduced many farmers to poverty. At the same time, fishing by large foreign vessels in Somali waters has led to the piracy off the coast which has become synonymous in many people's minds with Somalia worldwide.
At Radical Rehab, Al-Shabab Defectors Get 2nd Chance
BAIDOA, SOMALIA —
Young men play football in the afternoon sun. It is a common scene in Somalia, except for the razor wire and guard towers that surround this compound in the town of Baidoa.

The players are all former members of the al-Qaida affiliate in Somalia, al-Shabab, which formed a decade ago and has fought a bloody insurgency against the country's government.

The men left al-Shabab and were chosen for this U.N.-backed rehabilitation program instead of jail.
"An explosion happens and you don't like it, [the] mass killing of people. When they fight between them - the al-Shabab leaders - you keep on collecting all these incidents, then finally they will do something which will immediately change your mind," said Abdi (not his real name), a rehab participant.
For him, the breaking point was when al-Shabab leaders banned members from opening small businesses. He was just a teenager when he joined, after his father was killed by Ethiopian troops fighting the militant group in Somalia.
"I have lost six years," he said. "The people who I was with in high school, they are in university, they are in the town, and if you see them, they are hopeful. Before I get to 30, I hope to catch up with them."
Typical day
During a typical day, former combatants take literacy, life skills, and religion classes. They develop business plans funded by the center to support themselves after graduation. The goal is to reintegrate them into society.
But their past is never far away. Abdi continues to receive threatening phone calls from al-Shabab.
"Absolutely I cannot go to where al-Shabab are, and if I go into the town, the community might not feel safe, so the best thing is just to stay here at the center, and just to accept the situation until time goes by and the community becomes more enlightened about who we are," he said.
Of the 160 men currently enrolled, about 40 stay full-time at dormitories in the center, while the others live with families in town.
At the center, the men cook meals and eat together, and relax by playing sports, card games, and watching television.
Once an extremist always extremist?
The rehabilitation process takes time, as some former fighters maintain extremist beliefs.
"We will say to them, 'Okay, if you believe in this, and we believe in that, let's sit down with the Holy Koran and the Hadith, and you do your research, and if your interpretation is correct we go with this, if mine is correct we go with that.' Because we are Muslims, we have to debate in a constructive way," said an Islamic teacher at the center, who asked VOA not to use his name for safety reasons.
No relapses
So far, no graduates from Baidoa have rejoined al-Shabab, according to the center's managers, but the process is far from perfect.
For one, it is relatively small. Hundreds of fighters have defected from al-Shabab since 2013, but the terror group counts as many as 10,000 fighters by some estimates. Al-Shabab has continued to recruit and carry out deadly attacks in Somalia and neighboring Kenya.
There's also confusion over how defectors are selected for rehab versus jail. And local residents ask why former terrorists get all this support and they don't.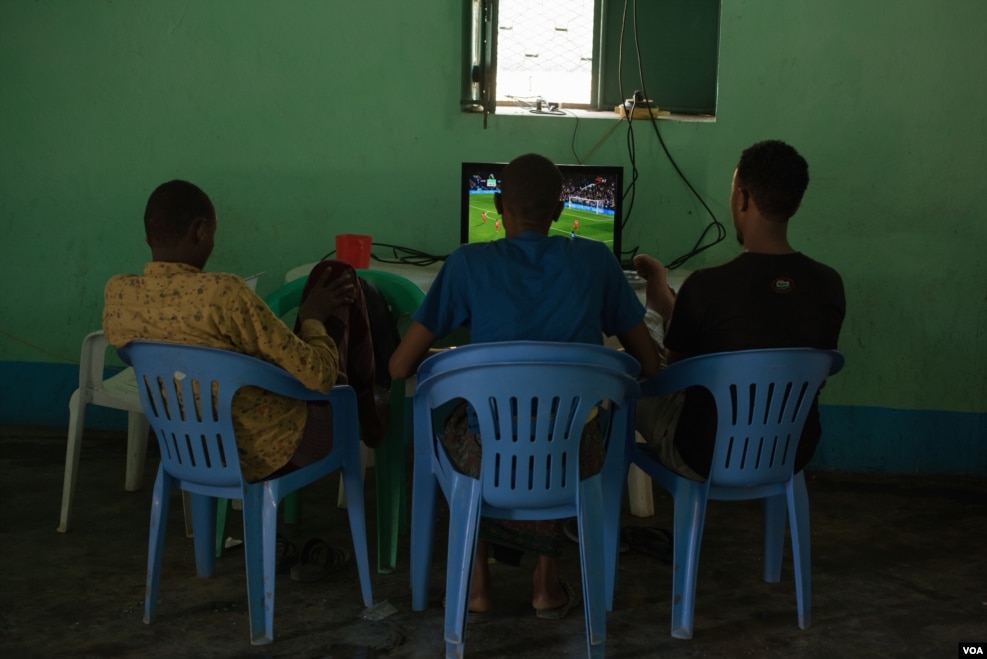 Men only

The center in Baidoa only takes men. Some of the men there told VOA they have married friends who would also like to leave al-Shabab, but they don't want to leave their wives and children behind.
But Patrick Loots, who designed the program as head of the U.N.'s demobilization, disarmament and reintegration program in Somalia, says the rehabilitation center remains vital.

"This has created some kind of reassurance to some groups in al-Shabab to start reaching out to the current government and say let's talk a peace deal, and they have directly connected to this program, so this is much bigger than we think, and I believe that even though it's a drop in the ocean, it's a drop in the ocean with the right people," he said.
Somali women defend gender rule
Mogadishu, 5 October 2016 - Somali women leaders have called for a stop to politicization of the 30 percent gender rule.
The women accused those opposed to the quota of using politics to deny them their rightful share of parliamentary seats, despite the support received from both the local population and the international community.
The chairperson of the Somali National Women's Association and the Deputy of the lobby group, Goodwill Ambassadors, Ms Batula Ahmed Gabale, said the 30 percent quota reserved for women was pragmatic since they make up majority of the Somali population.
"It is against the development of Somalia and I believe it is against the Somali government. Somali women are part of the society and they deserve to get jobs, participate in politics and have constitutional responsibilities to perform for the country," the chairperson of the Somali National Women Association added.
The women also received support from their male counterparts, who urged electoral college delegates, mandated to choose members of parliament in the forthcoming electoral process, to consider women candidates.
A member of the Goodwill Ambassadors lobby group, Mr Hasan Ahmed Sadiq, said women lobbied for the 30 percent quota because Somalia is a patriarchal society which had denied them their rightful share in parliament.
The Goodwill Ambassadors member dispelled claims that foreigners were behind the campaign to have 30 percent of seats in parliament reserved for women.
"It's a struggle by the Somali women. It is women who asked men (for the quota) and they (men) agreed. The international community has no involvement at all," Sadiq noted.
He said a recent statement by the Somalia Religious Council, which opposed the 30 percent gender rule, had confirmed that more needs to be done to protect the rights of women.
Ms Asha Siyad from the Somali Women Leadership Initiative traced the push for more representation in parliament to the year 2000 when a meeting held in Djibouti resolved to champion women's rights. It was followed by meetings in Garowe which resolved to lobby for 20 percent representation, before it was increased to 30 percent in 2012.
Ms Siyad said when the state of Somalia collapsed, more than 25 years ago, the people who were most affected were women and children. She said women had to fend for their families including their husbands.
"If children and women were the most affected, and now the country is being rebuilt, the most affected people (women) have a role to play in the affairs of the country," the official from the Somali Women Leadership Initiative added.
Somali women have been lobbying for the 30 percent quota of seats in both lower and upper house to be reserved for them in the planned electoral process scheduled before the end of year.
Al Shabaab Weakened but Not Defeated in Somalia
Tuesday, September 13, 2016
Efforts to weaken the al Qa'ida-linked terrorist group al Shabaab in Somalia have had some success over the past five years, but the U.S. campaign there is now in jeopardy, according to a new RAND Corporation
study.
Al Shabaab may resurge if urgent steps are not taken to address the political, economic and governance challenges at the heart of the conflict, researchers say.
The report finds that a key to degrading al Shabaab was a tailored engagement strategy that involved deploying a small number of U.S. special operations forces to conduct targeted strikes, provide intelligence and build the capacity of local partner forces to conduct ground operations.
"This strategy used a limited U.S. military footprint, which minimized the risk of U.S. casualties, financial costs and likelihood of triggering nationalist or religious blowback," said Seth Jones, the study's lead author and director of the International Security and Defense Policy Center at RAND, a nonprofit research organization. "It involved working with and supporting the Somali National Army, the African Union Mission in Somalia and clan forces, which were in the lead."
Researchers also pointed out several other factors that weakened al Shabaab, such as internal friction among al Shabaab's senior cadre of leaders, battlefield losses, personality clashes, clan dynamics and ideological disputes.
"Still, progress in Somalia is reversible in the absence of continued and consistent pressure and political, economic and social reforms," said Andrew Liepman, an author of the report and a senior policy analyst at RAND. "Al Shabaab has not given up its ambition to control greater Somalia and it retains the ability to retake territory, particularly if the United States and its allies fail to effectively deal with ongoing challenges,"
The authors contend that while there has been a significant focus on how and why the United States and other Western governments have failed to degrade terrorists and insurgents from key battlefronts such as Iraq and Afghanistan, there has been far less attention on successful efforts to degrade groups. In Somalia, there has been limited progress. The challenge will be preventing a reversal, researchers say.
Al Shabaab remains a capable and ruthless terrorist group, according to the RAND report. Its intelligence and security branch, Amniyat, remains aggressive in planning future attacks. Al Shabaab continues to kill civilians across East Africa and undermine the viability of Somalia. It has attacked neighbors, killing hundreds of Kenyans and Ethiopians, and targeted other African nations that have contributed troops to the fight against the group.
As the al Shabaab case highlights, insurgent groups often increase terrorist attacks as they lose territory. They may resort to terrorism to coerce the withdrawal of foreign forces by punishing their civilians, bait foreign governments into overreacting or simply to enact revenge. The lesson for other cases, such as the Islamic State, is straightforward. Western populations should be prepared for an upsurge in violence as groups lose territory, researchers say.
To stabilize the situation in Somalia, the RAND report recommends establishing a U.S. senior diplomatic presence in Somalia to better deal with the country's political challenges and increasing aid to build the institutional capacity of Somali security forces. In addition, the United States should ensure long-term political, economic and military support to the African Union Mission in Somalia, and retain the legal authority to deploy U.S. special operations forces and to strike targets in Somalia.
The research was conducted within the International Security and Defense Policy Center of the RAND National Defense Research Institute, a federally funded research and development center sponsored by the Office of the Secretary of Defense, the Joint Staff, the Unified Combatant Commands, the Navy, the Marine Corps, the defense agencies, and the defense Intelligence Community.
Kenya: Disappearances, Deaths in Northeast
Zeinab Bulley Hussein holding the national identity card of her son, Abdi Bare Mohamed. Community members stumbled on Abdi Bare's dead body 18 kilometers from Mandera, in northeastern Kenya, three weeks after police officers arrested him outside the family's home in August 2015.
(Nairobi) – Kenyan security forces have forcibly disappeared at least 34 people in the past two years during abusive counterterrorism operations in Nairobi and in northeastern Kenya, Human Rights Watch said in a report released today. Kenyan authorities should end the abuses in counterterrorism operations and promptly investigate the enforced disappearances and deaths of detainees in the northeast.
The 87-page report,
"Deaths and Disappearances: Abuses in Counterterrorism Operations in Nairobi and in Northeastern Kenya,"
documents 34 instances in multi-agency security operations in which the military was actively involved in raiding homes and compounds to arrest people who were allegedly suspected of links with the armed Islamist group, Al-Shabab. But months, and in some cases over a year, later, suspects have not been charged with any crimes and families cannot locate them. In each case, although families reported the disappearance to the police and sought help from various authorities, the authorities failed to inform them of the detainees' whereabouts or to properly investigate allegations of abuse.
Families reported the disappearance of their relatives to the police and sought help from various authorities, but the authorities failed to inform them of the detainees' whereabouts or to properly investigate allegations of abuse.
"People in northeastern Kenya deserve protection from Al-Shabab attacks, not further abuse from the authorities," said Ken Roth, Executive Director at Human Rights Watch. "Rounding people up and refusing to disclose their whereabouts is a serious crime and only compounds fears and mistrust in the security forces."
Human Rights Watch spent more than eight months investigating the abuses in Nairobi and in the northeastern counties of Garissa, Wajir, and Mandera, and interviewed 117 people including victims and witnesses of counterterrorism operations, Imams, government officials, journalists, lawyers, human rights activists, police and military officers, and local community leaders. Human Rights Watch also conducted follow-up interviews in Nairobi and by phone with victims and witnesses in the northeast.
Concern for the well-being of the 34 people is compounded by at least 11 cases in the past two years in which dead bodies of people previously arrested by state agents have been found, in some instances far from the location of their arrest. As far as Human Rights Watch is aware, police have not meaningfully investigated these deaths. In one instance, a body was exhumed in Mandera in response to public demands, but the government has not conducted an inquest or any meaningful investigations as required by Kenyan law.
Human Rights Watch found that those arbitrarily arrested during the security sweeps included young ethnic Somali Kenyans, Imams, and Islamic school teachers. They were detained, at least initially, in military bases and makeshift military camps in forests in the northeast and other parts of the country. In some cases, police officers arrested people, and then handed them over to the military.
A 48-year-old man told Human Rights Watch that police arrested him in May 2015, held him for two days at Wajir police station and then transferred him to Wajir military base. He said that military officers later arrested his elder brother and held them both at Wajir military base. The military officers kicked, slapped, and beat the man, and gave him electric shocks, then released him after 15 days. His brother's whereabouts are unknown.
In another case, on March 21, 2015, four military officers arrested Abdiwelli Ibrahim Sheikh, 28, at home and witnesses saw military officers take him to Mandera military camp. He has not been seen again. "The security officers said they wanted to ask him a few questions and then they would set him free," said a 50-year-old man who was with Abdiwelli at the time of his arrest. "We never knew he was being taken away for good."
Families have searched far and wide for news about their loved ones, including in detention facilities, asked political and religious leaders for their help, and, in some cases, turned to social media to try to locate the missing relatives. Some families filed habeas corpus petitions, seeking a court order to compel the government to provide information. Officials, however, have denied any knowledge of the detainees' whereabouts.
"If Kenyans are disappearing, police have the mandate to actively work with families and witnesses to locate these people," Roth said. "The government's silence speaks volumes."
Counterterrorism law enforcement operations in northeast started soon after the September 2013 attack on Westgate mall in Nairobi, Kenya's capital, but intensified after the April 2015 attack on Garissa University College, in which 147 people, including 142 students, were killed. Al-Shabab claimed responsibility for both attacks. Al-Shabab has claimed responsibility for several other high profile attacks in Kenya, including in the northeast region.
In response to these attacks, the Kenya Defense Forces, Kenya police, National Intelligence Service, and Kenya Wildlife Service (KWS) rangers have deployed to the northeastern region, in some cases working with other units in Nairobi.
Human Rights Watch believes that the 34 people are victims of enforced disappearance, defined in international law as any deprivation of liberty by state agents, followed by the state's refusal to acknowledge the detention or concealing of the fate or whereabouts of the person. Kenya police and military did not reply to Human Rights Watch questions about the whereabouts of the 34 people.
Government action to address abuses in counterterrorism operations is long overdue, Human Rights Watch said. The government should provide basic information regarding the identities, fate, and whereabouts of people arrested in these operations, and ensure basic due process rights for anyone who is arrested or in custody.
The Kenyan police and military should urgently investigate allegations of disappearances, deaths and torture in the northeast, and bring those responsible to justice. The president should establish a special commission of inquiry to investigate and establish the extent of the abuses in Kenya's counterterrorism operations.
"There is no doubt that Kenya faces serious security challenges, but the authorities have an obligation to respond effectively and respect due process in any law enforcement operation," Roth said. "The disappearances and uninvestigated deaths in the northeast are illegal and risk alienating local communities, whose cooperation is needed."
"They told Omar that they wanted to ask him questions related to national security after which they would set him free. They did not introduce themselves but they are well-known Criminal Investigations Department (CID) officers so Omar did not ask them to identify themselves. That was the last time we saw him."
– A man whose relative, Omar Yusuf, was arrested in the town of Mandera in April 2015.
"The officers carried the five men and threw them in the Land Cruiser-like vehicles that had Africa Union Mission in Somalia (AMISOM) insignia and drove away. We later came to understand from various accounts of those who spotted the vehicles on the road, [that they were moving] in the direction of Somalia."
– A 50-year-old man who was present when Kenya Defense Forces officers raided a restaurant in the town of Garissa, shooting and arresting five men, including Hassan Abdullahi, whose whereabouts remain unknown.
"Police at Garissa police station have never helped us and I don't think they care. They told us that on that day they also heard gunshots but they denied knowledge of what had happened. The Garissa county commissioner told us he knew nothing about what had happened but he was clearly not willing to help find out. A National Intelligence Service officer told us that he had tried to call police on the phone after he heard gunshots to inquire what was happening. Within minutes, he received a call from a concealed line ordering him to vacate the area and never talk about the issue again."
– A 25-year-old relative of one of the missing men.
"[My brother] was picked up from his home town where he was born, where he grew up, where he had children, and now no one knows whether he is alive or not. So everyone can feel how painful that is. To see the dead body of your family member is painful but you at least know he is dead."
– A man whose brother has not been seen since police arrested him on April 26, 2015.
Selected accounts from people interviewed for the report:
UNHCR: Displaced people in sub-Saharan Africa hit 18.4 mln in 2015
Conflict in countries like South Sudan and Somalia raised the total number of refugees and internally displaced persons (IDPs) in sub-Saharan Africa to 18.4 million in 2015, according to the UN refugee agency (UNHCR).
The UNHCR's annual Global Trends report, which tracks forced displacement worldwide, says sub-Saharan Africa recorded the largest displacement totals in 2015 after the Middle East and North Africa.
"Continuing bitter conflict in South Sudan in 2015, as well as in Central African Republic and Somalia, plus new or continuing mass displacement in or from countries including Nigeria, Burundi, Sudan, DR Congo, Mozambique and elsewhere together produced 18.4 million refugees and IDPs as of year's end," UNHCR said.
The report, which was received in Nairobi on Monday, says sub-Saharan Africa currently hosts some 4.4 million refugees in all -- more than any other region in the world.
Five of the world's top-10 refugee hosting nations were African countries, led by Ethiopia, followed by Kenya, Uganda, the Democratic Republic of the Congo and Chad, UNHCR said.
The report was released as the world is marking World Refugee Day, which falls each year on June 20.
Across the globe, the report says 65.3 million people were displaced as of the end of 2015, compared to 59.5 million just 12 months earlier.
The 65.3 million displaced people include 21.3 million refugees and 40.8 million IDPs.
"More people are being displaced by war and persecution and that's worrying in itself, but the factors that endanger refugees are multiplying too," said UN High Commissioner for Refugees, Filippo Grandi.
"At sea, a frightening number of refugees and migrants are dying each year; on land, people fleeing war are finding their way blocked by closed borders. Politics is gravitating against asylum in some countries," Grandi said.
The report says children constituted 51 per cent of the world's refugees in 2015. Worryingly, many were separated from their parents or travelling alone.
The report says three countries -- Syria, Afghanistan and Somalia -- produce half of the world's 21 million refugees.
Forced displacement has been on the rise since at least the mid-1990s in most regions, but over the past five years the rate of climb has increased.
According to UNHCR, situations that cause large refugee outflows are lasting longer such as conflict in Somalia and Afghanistan.
http://hiiraan.com/news4/2016/Jun/106033/unhcr_displaced_people_in_sub_saharan_africa_hit_18_4_mln_in_2015.aspx
Kenya to ask UN to take over AMISOM
Wednesday
June 15, 2016
President Uhuru Kenyatta is in Belgium for meetings with European Union leaders. EU is Kenya's second-largest development cooperation partner after the World Bank and the second-largest destination of Kenya's exports after Comesa.
Apart from delivering the keynote address to the European Union Development week, the head of state will meet United Nations Secretary General Ban Ki-moon. He is expected to ask that the UN takes over the Amisom mission in Somalia because the European Union has cut funding by 20 per cent, straining Amisom's operations.
"The decision by the EU has affected the effectiveness of the force and we would like other institutions like the UN to come in and support it," Johnson Weru, Kenya's ambassador to the Brussels, said yesterday.
UNHCR: Time Frame Short for Returning Kenya's Somali Refugees
Repatriation is the best solution for hundreds of thouands of Somali refugees that Kenya's government says have become a security liability, the U.N. refugee agency chief said Monday, but he called Kenya's time frame for the move "very short" to ensure a safe, voluntary return.
Filippo Grandi spoke after visiting the sprawling Dadaab camp. Kenya says 328,000 Somali refugees there must go home by November.
The refugee chief said the refugees may need support for six months to a year, as much of war-torn Somalia lacks the infrastructure to convince them to voluntarily go back home.
Most of the areas in the East African country the refugees came from are still insecure, Grandi said. He said Somalia already has 1 million people displaced inside its borders.
"We don't want to help people go back and then they become internally displaced; otherwise, it's just transferring the problem from one place to another where, by the way, it is more difficult to help them," he said.
"To create infrastructure in Somalia will take years, but we have worked in many situations in the world where you can do some quick fixes so that some initial activities can start, and that will go a long way in ensuring the sustainability of returnees," Grandi said.
President Uhuru Kenyatta asked the U.N. refugee agency to come up with a plan for the repatriation, Grandi said. He said a committee including the foreign ministers of Somalia and Kenya and representatives of his agency will meet to talk to discuss it.
Ahmed Hussen of Liberal - Faisal Hassan of NDP - Abdi Abdul of Conservative

TORONTO (HOL) – The surprise victory by the Liberal Somali candidate Ahmed Hussen who swept York South-Weston with a strong lead has raised hopes for the Canadian Somali community which has long been struggling to make political inroads in Canada.
Mr. Hussein, has defeated the NDP's incumbent Mike Sullivan, making him the first Somali-Canadian MP in Canada.
"This is a great day for Somali Canadians and a day to remember" Said Mahad Shafie, a Somali-Canadian businessman who lives in Ottawa.
As the news of his election went viral on the mainstream media, thousands of Somalis took to the social media, describing his victory as 'momentous', a development which may inspire more Somalis in Canada to run for the upcoming elections.
"It's a moment of hope, a moment of inspiration." tweeted Ali Ahmed, a community activist in Toronto.
Born and raised in Somalia, Mr. Hussein has immigrated to Canada in 1993 and he settled in Regent Park. Struggling to get an employment, he immediately gravitated towards public service according to his campaign website.
In addition, he currently serves as the National President of the Canadian Somali Congress – a Somali community organization that works with national and regional authorities to advocate on issues of importance to Canadians of Somali heritage and strengthen civic engagement and integration.
"This is the beginning of a new political era for Somali Canadians in the future, hoping that every Somali Canadian must be proud of this historical achievement executed by our newly elected politician Mr Ahmed Hussein." said Ali Hagi Awiisa, a HOL reader.
Canada has one of the largest Somali populations in the western world. Unofficial estimates placing the figure as high as 150,000. The early 1990s saw an increase in the total number of Somali immigrants entering the country, with some secondary migration from the United States.
5,000 refugees have gone back to Somalia
Nearly 5,000 Somali refugees from Kenya's Dadaab camps have returned home since December last year, the UN refugee agency has said.
About 4,500 more have signed up to go back in the coming months, the United Nations High Commissioner for Refugees said.
"They also receive a cash grant, food and basic domestic items such as sleeping mats, mosquito nets, solar lanterns, hygiene supplies and kitchen utensils to help them start a new life," UNHCR spokesperson Adrian Edwards told a press briefing in Geneva, Switzerland, on Saturday.
The agency said in an update, security and socio-economic conditions in many parts of Somalia are not right for large-scale returns of refugees.
However, some are eager to leave life in exile behind and help rebuild their country, it said.
"To end one of the world's most complex refugee situations it is vital to make sure that the small number of returns can be successful and contribute to a more peaceful and stable Somalia," Edwards said.
He added that more support and investment in the country's social and economic infrastructure was urgently needed.
"While security remains a concern, the lack of equipped public schools and of job opportunities is cited by many as stopping them from going back," Edwards said.
Foreign Affairs CS Amina Mohamed is expected to take part in a major pledging conference for Somalia refugees in Brussels, Belgium, this Wednesday.
UN High Commissioner António Guterres, the EU High Representative for Foreign Affairs and Security Policy Federica Mogherini and the European Commissioner for International Cooperation and Development Neven Mimica will be at the conference.
Others will be Somalia Prime Minister Omar Abdirashid Ali Sharmarke and other high-level delegations from Djibouti, Ethiopia, Kenya, Uganda and Yemen.
They will present a plan of action to prepare for the sustainable return of Somali refugees from the region to Somalia and to rebuild the areas of return.
The main focus will be on rebuilding the infrastructure, reinforcing law enforcement, education, water and sanitation, healthcare provision, shelter, agriculture and the creation of job opportunities to representatives of more than 30 donor countries and organisations.
Iran signs contract to provide Somalia with food
TEHRAN — Iranian Red Crescent Society has signed a contract with International Federation of Red Cross and Red Crescent Societies (IFRC) to provide Somalia with food supplies, Fars reported on Tuesday.
The contract has been signed during a video conference held between the two humanitarian organizations.
The head of Iranian Red Crescent Society Mohsen Ziaee insisted on the need to strengthen cooperation with IFRC, highlighting the effective and humanitarian aid sent to African countries within the past decade.
Ziaee also expressed joy over the commencement of a program seeking to promote human welfare in countries such as Somalia and Kenya.
"We hope to finalize the terms of the contract until November," he added.
During the video conference, Elhadj As Sy, the secretary general of IFRC, admired Iran's generous spirit in humanitarian movements and held up Iran as an inspiring example to the world.
Food shortage and famine have been of an issue for some years in various African countries. East African countries, including Somalia, Kenya, Ethiopia and Djibouti, have experienced a crippling drought over the last year, but the crisis has turned into famine only in Somalia.
Iran has made significant humanitarian aid to famine-stricken African nations which won praise by their governments as well.
The International Federation of Red Cross and Red Crescent Societies (IFRC) is the world's largest humanitarian network that reaches 150 million people in 189 National Societies through the work of over 17 million volunteers. They act before, during, and after disasters and health emergencies to meet the needs and improve the lives of vulnerable people.
http://hiiraan.com/news4/2015/Oct/102070/iran_signs_contract_to_provide_somalia_with_food.aspx
Cargo airplane crashes near Mogadishu after fuel shortage
____A cargo plane carrying frozen food for the African Union forces in Somalia has crashed outside Somali capital, with six crew on board survived unharmed, Somali official told HOL,
Director of Somali Civil Aviation told HOL that the plane Airbus A300 which has flown from Egypt has crashed on Afoye road, outside Somali capital after fuel shortage forced the pilot to make an emergency landing.
Despite initial confusion on the plane's crash information, the director of Somali civil aviation said that the department would release an official report on the incident.
According to Somali aviation authority, Mogadishu Airport is officially closed between 1500 - 300 Zulu time (6pm - 6am) Mogadishu time. Despite the belated flight by the crashed plane, that information was available to any airplane planning to travel to Mogadishu Airport.
By regulation any aircraft should have enough feul to destination and there after to alternate airport in this case Djibouti or Nairobi, a regulation Somali aviation officials said that the plane's crew failed to comply.
The UN's Civil Aviation Caretaker Authority for Somalia (CACAS) that collect over-flight revenues on behalf of Somalia were unable to provide runway lights and other navigational facilities necessary for night flight operations to Mogadishu Airport.
CACAS has been collecting about $6 to7 million dollars every year for air navigation fees levied on aircrafts flying over Somali airspace.
Ethiopian lover stabs Somali girl to death for declining marriage proposal in Kenya
NAIROBI (HOL) ---A resentful Ethiopian man has stabbed a Somali girl to death in the Kenyan capital on Wednesday and then committed suicide after she scrapped his marriage proposal a week ago.
The Ethnic-Oromo Ethiopian man by the name Abdimalik has reportedly stabbed the girl called Saado multiple times in the Somali-dominant Nairobi suburb of Eastleigh where the two lived after she rejected his marriage proposal.
The man has immediately killed himself before the police arrived after drinking toxic substances to end his life, according the lady's relatives.
Witnesses in Eastleigh told HOL that the man confronted the lady with a long knife in his hand as she walked out of her apartment and started stabbing her after she insisted his proposal would not work for her.
Security forces who immediately arrived the scene have launched an investigation to determine the motives behind the murder which sent shockwaves across the Somali community in Kenya.
Eastleigh, an overly populated Nairobi suburb is largely resided by Somali and Ethiopia communities in Kenya. The business hub serves as the crucial peaceful environment for Somali and Ethiopian citizens fleeing war and poverty in their respective countries.
Mpls. man charged with raping 10-year-old in Riverside Plaza
A 10-year-old girl was raped in the hallway of Riverside Plaza Sunday before witnesses heard her screaming and alerted the police, according to charges.
On Tuesday, Ahmed Abdi, a 34-year-old Minneapolis man, was charged with two counts of first-degree criminal sexual conduct.
A surveillance camera video that police reviewed showed the man entering the elevator with the girl.
According to the criminal complaint, witnesses who heard the girl scream flagged down police outside the complex in Cedar Riverside neighborhood. They told police they saw the girl crying.
The girl told police the suspect extended his hand to her, but refused to let go after she shook his hand. She said he told her not to move and raped her in the east hallway of the third floor of Riverside Plaza.
The girl was taken to the Hennepin County Medical Center for treatment.
She described the suspect. Police later identified Abdi from the video and arrested him in St. Paul. He was booked into jail Monday morning.
Abdi remains in jail on $500,000 bail. He will make his first court appearance Wednesday at 1:30 p.m.
Hawala shutdown nearly crippled our economy -- Somalia minister
The closure of informal money transfer companies, commonly known as Hawala earlier in the year, locked out an estimated $ 5.4 million (Sh562.8 million) daily inflows into Somalia, a minister said on Friday.
Kenya was among the countries that shut the money transfer systems in a bid to stop alleged terrorist financing.
In April, the government closed down 13 money transfer firms in the wake of a terrorist attack on Garissa university college on April 1.
Finance minister in the Federal government of Somalia Mohamed Ibrahim said the move hit-hard the economy.
"When the Hawalas were closed, there was significant economic and social impact on many people in Somalia. Our currency has since lost about 25 per cent in exchange rates with black market activities increasing," Ibrahim told the Star in Nairobi.
The daily estimates given by the minister for the informal cash transfer system translates to about Sh16.9 billion a month.
Ibrahim said the shut-down also led to an increase in money laundering and prices of goods and services, raising the cost of living.
"Transaction costs of the Hawalas have gone up since then. The low cash flow also weakened the Somali shilling against foreign currencies", he said.
The impact is still being felt, Ibrahim said, adding that 80 per cent of the Somali population receives money through the system.
Many of the citizens rely on the Hawala system for remittances because of their lower charges compared to traditional global money transfer firms like Western Union.
It is the most preferred transaction mode by the Somali expatriate community, mainly in Europe and the US. Most of the funds are channeled through Kenya.
The blanket suspension by Kenya was lifted on June 8 by President Uhuru Kenyatta on condition that the remittance firms comply with Central Bank of Kenya regulations.
"We are very thankful to the Kenyan government for being responsible and for making the decision to revise the move and continued support for Somalia. Hawalas support almost half the national GDP," Ibrahim said.
He after the signing of a $ 24 million (Sh2.5 billion) World Bank funding, to support the second phase of the Somalia Recurrent Cost and Reform Financing.
Hawala companies have since picked up business after a three month low.
"We are trying to get back our footing slowly," said Kendy Money Transfer director Caroline Cherotich, one of the companies which were affected.
At UN, Somalia proposes 'grand development plan' to rebuild country's social, physical infrastructure
Applauding the international community's role in helping Somalia emerge from a difficult past, Prime Minister Omar Abdirashid Ali Sharmarke told the United Nations General Assembly today that a new Somalia is taking shape and proposed the "grand development plan" that would help Somali's keep building a better future.
"I want to tell you about Somalia," he said. "But a different Somalia from the one you might have heard of. I am not here to challenge you on our notoriety as a result of a conflict that has spanned two and half decades. However, please allow me to introduce another reality."
"My people are ambitious," he continued. "We are survivors and, given the chance, we can drive forward the socioeconomic landscape of East Africa," he said, noting the country's untapped oil and gas reserves.
Mr. Sharmarke said that his Government wanted to "ensure a free and fair election," despite the presence of "an active insurgency, which we are risking our lives to dismantle."
He also raised the issue of Somali refugees and undocumented migrants living in temporary camps, and urged the General Assembly to help his Government find a solution.
Mr. Sharmarke then turned his attention to the lack of adequate infrastructure in Somalia, saying "the public services that many people around the world take for granted, Somalia lacks completely, or has in very short supply."
He announced a new "Grand Development Plan" for the country to rebuild roads, schools, hospitals, community centres, ports, airports and markets, a plan that he said was aligned with the new UN Sustainable Development Goals (SDGs).
The Plan, which would be shared with the wider international community in due course, would, among others, ensure accountability and transparency for every investment made. "Each UN Member State will have the opportunity to [help transform] Somalia into an economic powerhouse and future trading partner," he declared.
Speaking of insurgents who, he said, controlled Somalia four years ago, Mr. Sharmarke noted: "We are looking forward to not only bounce back for our benefit, but to also become that shining example to nations that are now in the throes of hardship, nations that are working hard to move from third world to first, and to nations that find it hard to navigate the difficult but worthwhile road of recovery."
"Somalia has failed my generation," he continued. "And I will dedicate my life to ensuring it does not fail the next. But I cannot do this alone. Only together, can we be the Somalia the world is waiting for."